Gas vs Electric Dryer: How To Make The Right Decision?
Drying our clothes costs us $9 billion each year. That's a lot of money we're wasting, not to mention energy (somewhere around 4% of the residential energy use). If you're in the market for a clothes dryer, then you're probably going through the gas vs electric dryer consideration.
This particular debate should focus on two particular aspects: needs and budget. In addition to these aspects, the following guide will help choose the right option based on the benefits and features each option has to offer. Here is what you should keep in mind when choosing a gas vs electric dryer, and enjoy a few helpful tips for buying the right appliance for your home. 
Gas vs Electric Dryer: Features
Both propane gas and natural gas dryers have a gas burner to create heat. However, apart from this difference, they operate similarly to an electric dryer.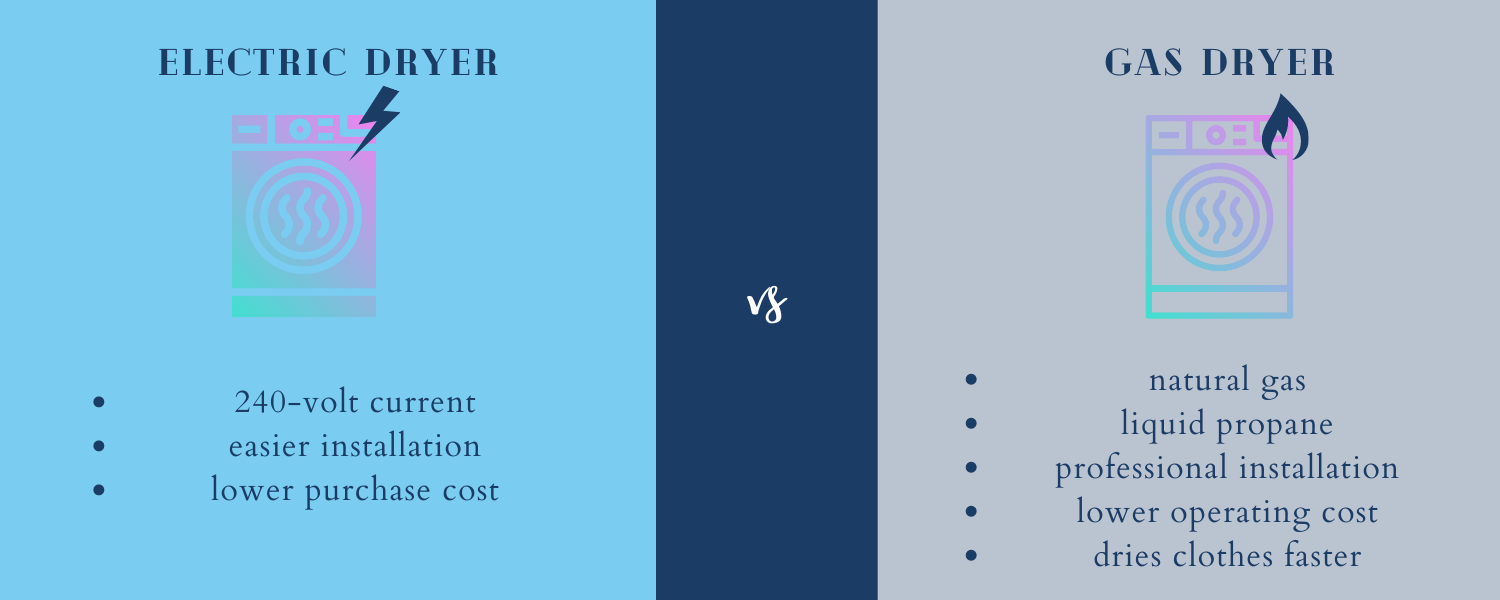 The Electric Dryer
An electric dryer works on heating coils and operates on a 240-volt current. This is twice the strength of the household current. This is also the reason why you will find larger electrical outlets in the laundry room. The electric dryer has several other features, such as: 
most electric dryers have a lower upfront cost and come in a larger number of models; 

appropriate wiring is already present in most homes; 

it's simpler to install than the gas one if you have a dedicated circuit and your panel can sustain the additional load.

repair costs specific to an electric dryer are budget-friendly, not to mention that these appliances are pretty low-maintenance; 

some electric dryers that have the steam dry function – this feature can reduce static and wrinkles, so it's definitely a plus; 

some models have reversible doors. 
The Gas Dryer
The gas dryer makes use of a gas burner fueled by either propane or natural gas to function. Some of the features to take into account are: 
gas is a more affordable and cost-effective fuel in the long run; 

it dries your clothes in about half the time compared to electric dryers for the same task, producing even less static cling; 

because gas dryers dissipate heat faster after the end of the cycle, they can keep clothes from wrinkling; 

needs professional installation, which can be rather costly

. 
Gas vs Electric Dryer: Cost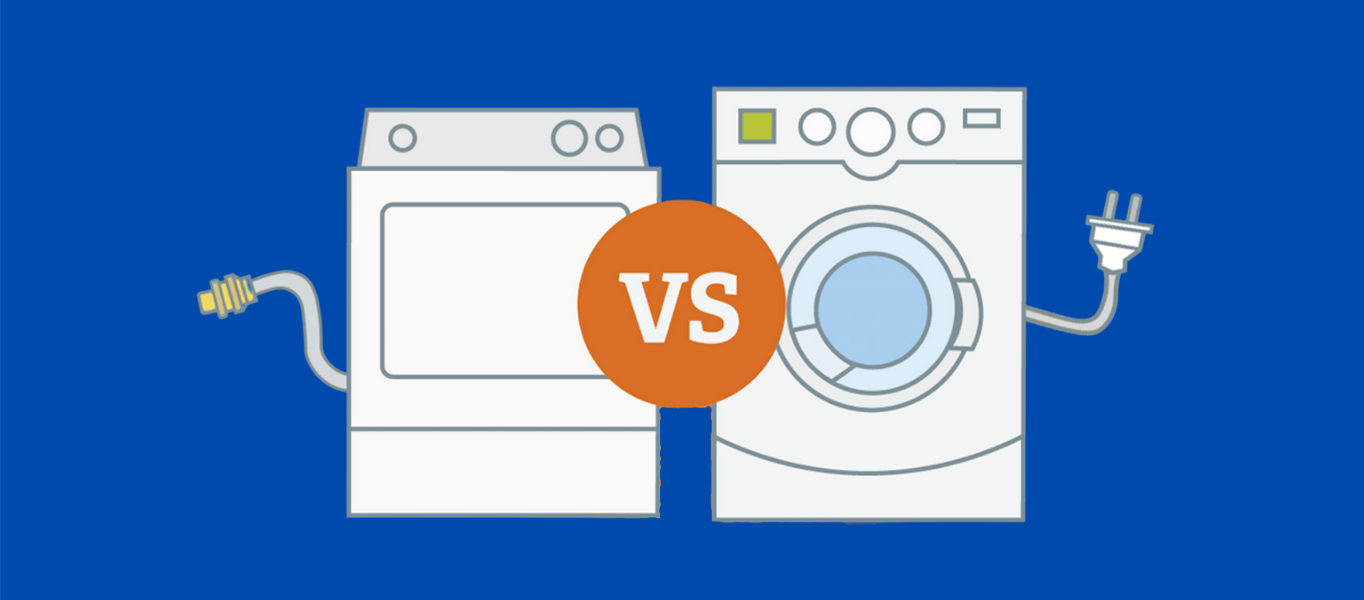 Most brands and models of dryers have both a gas and an electric version. The gas dryer will usually be about $100 more expensive than the electric version. If you are wondering if you can convert your current dryer from one to the other, the answer is no, because the heating system is entirely different in each. 
In addition to the purchase price, the cost of operation is also something you want to consider. Because gas dryers run hotter than electric ones, over time costs are reduced. But this also depends on the size of your family, as well as how many loads you usually do every week. The savings you end up making with a gas dryer are notable only if the appliance itself is frequently used. 
There is another aspect worth mentioning, and that is the current situation of your laundry room. When building a home, a gas dryer may be a good option. But if you already have an electric line installed, then it makes absolutely no sense to make the switch to gas. In this case, the gas dryer will no longer be a cost-effective option. The cost to switch to gas can go as high as $1000, plus the cost of the appliance. 
Gas vs Electric Dryer: Installation
As mentioned earlier, installing a gas line connection can be rather expensive. You'll need a mechanical contractor to install the connections to underground gas lines. If you have moved to a new location where natural gas service is not available, you can still power up your dryer using liquid propane gas, which can be stored in a large tank.
In order to convert a natural gas dryer to a liquid propane one, you need a specific kit. You also need to contact the local company, which must install a storage tank as well as gas lines. Plus, you should work with a professional technician to install the gas dryer.
With an electric dryer, things are much simpler. This appliance simply needs to be plugged into a 240-volt outlet. In the laundry room, or wherever your setup is made for the washer and dryer bundle, you will most likely find a heavy-duty electrical outlet. You might also have specially designated breakers in your home's electrical box. If you don't have this heavy duty outlet, you need an electrical contractor to professionally install it from your main panel.
Other Things To Consider
In order to choose the right appliance for your needs, you should consider other aspects as well, such as available space, desired style, additional features, and budget. For instance, some dryers have specific fabric care features that allow you to protect your clothes, while others are energy-efficient and have a positive impact on your energy bill and environment.
Another aspect to consider when deciding between gas and electric dryers is your home's electrical system and gas lines. In older homes, for instance, installing a gas dryer is not necessarily a wise decision. 
Also, when figuring out the available space in your laundry area, there's several aspects to account for: 
The average washer and dryer placed side-by-side require a space of 40 inches high by 56 inches wide and 31 to 34 inches deep. Make sure you measure the space before purchasing the appliance. 

Consider how the door of the dryer opens. Check there is sufficient space. 

Make sure there is enough space for air circulation. All dryers require at least one inch of clearance on all sides. 

For venting materials, you need to leave three to five inches of clearance at the back of the dryer. 

Some appliances have dual-opening doors allowing for side-swing or top-load usage.
In terms of brands, there are several reputable ones. Samsung and GE offer smart dryers, while Bosch specializes in dryers for small spaces. Maytag, however, has a reputation for designing reliable dryers. 
Ready For Your Free Estimate?